Raymond Bell (2021-Present)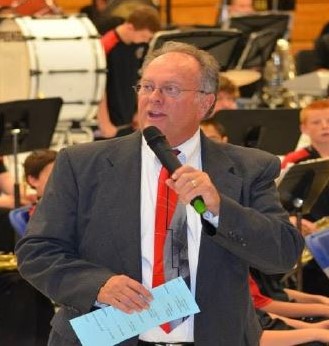 I, Raymond Bell, was born in Dumaguete City, Philippines, in the midst of a typhoon. My parents were both missionaries at Silliman University in Dumaguete, and we lived there until I was 10. After returning to the US and moving to Parker, Arizona, I started playing the trumpet in 5th grade. Important music teachers at that time were Ralston Pitts, James Humbert, and Paul Walker. They instilled in me my early interests in music and playing the trumpet.
After my freshman year at Parker High School our family moved to Blairsville, Pennsylvania so my father could attend Pittsburgh Theological Seminary. While there, I attended high school at Blairsville Senior High where I graduated in 1968.
College years were spent first at Duquesne University in Pittsburgh, where I expanded my learning of the trumpet. I had an outstanding trumpet teacher, Jack McKie of the Pittsburgh Symphony. After a year at Duquesne, I transferred to Arizona State University (ASU) in Tempe, Arizona. This is where I met my wife Kathy in the Sun Devil Marching Band. She played piccolo and we were married in 1972 after I graduated from ASU.
In 1972 I began my teaching career at the Albuquerque Public Schools; teaching at Roosevelt Junior High and the three feeder elementary schools. In 1974 I began my high school teaching career at West Mesa High School where I taught for 7 years. In 1981, I transferred to Del Norte High School and taught there for four years. My time in Albuquerque was wonderful. I had the opportunity to teach with several mentors and colleagues, and of course, had taught many wonderful students. Interactions with the music faculty at the University of New Mexico (UNM) was also special, and I did complete my Master of Music degree at UNM during this time.
1985 brought a career change and move to Colorado Springs, Colorado. I began my business career in the fund raising industry, which I pursued for 18 years. I was able to help many schools, groups and youth sports organizations raise necessary funds for helping their students, families and participants. In 1991 and 1992 I served as the part time assistant band director at Coronado High School with my good friend Richard Kusk.
As the saying goes, "Once a teacher, always a teacher", and in 2003, I returned to teaching as the band director at Harrison High School; I stayed for 3 years until I became the band director at Sand Creek High School. At Sand Creek, I started the first-ever marching band, orchestra, color guard and winter percussion programs, as well as continued to develop the concert and jazz band programs. Additionally, I started a popular guitar class for students who were not typically involved in instrumental music or vocal music programs.
After teaching a total of 27 years, I retired at the end of the 2017 school year from Sand Creek High School. The best part of what I've done all those years is having the opportunity to teach such wonderful students. Everywhere I've taught, Roosevelt JH, West Mesa High School, Del Norte High School, Coronado High School, Harrison High School and Sand Creek High School, it's the "kids" that have made it special for me. They are what has made this an exceptional time in my life. My teaching career was filled with wonderful students and parents, many of whom I continue to keep in contact with. Most importantly, were the relationships I developed with my students as I guided them into adulthood through music.
In October of 2019, I began teaching half time for School District 11, teaching beginning strings at two elementary schools. What a challenge it's been with distance learning for the final 3 months of school! Both are low income Title 1 schools, so dealing with inadequate technology was problematic for the students, families, and facility. I do plan to continue teaching at these two schools for upcoming school years.
Kathy and I started our family in Albuquerque. Erin, our oldest daughter was born on the night of an October football game. Ryan was born in November, and our youngest, Colleen was born the day I was judging at a solo and ensemble contest in March. They have all turned into wonderful adults. Erin, husband Christian and daughter Emma live in Longmont, CO. Ryan, wife Madeleine and daughters Octavia and Esme live in Winthrop, WA. Meanwhile, Kathy and I are fortunate to have our youngest Colleen living with us.
I've been fortunate to have had some great experiences as a professional trumpet player. In college I played weekends with a Mexican Salsa band, "Pete Bugarien y Los Compas" as well as a rock band. When we moved to Albuquerque I was one of the first call trumpet players for groups, shows and entertainers travelling through and performing in Albuquerque. I performed with Bob Hope, The Temptations, Four Tops, O Jays, Ice Capades/Ice Follies, Peggy Lee, Buddy Greco, Kenny Rogers, Jimmy Rogers, Marilyn May, Bobby Rydell and others. It was challenging but fun and also some great musical opportunities.
Previous Director and PPIOM co-Founder Bill Callen (2002-2020)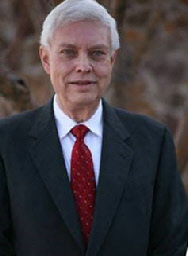 On November 1, 2021 Bill Callen was Posthumously Awarded the Roy Ernst Award for showing perseverance, passion and commitment to outstanding musical achievement in the spirit of the New Horizons International Music Association philosophy of lifelong musical learning.
Click to Enlarge

A native of Clinton, Missouri, Bill (deceased) attended Central Missouri University, and received both a Bachelor of Music Education degree and a Master of Arts degree. While at the university, he studied Saxophone performance under Dr. Eugene Rousseau, a well known classical Saxophonist.
After serving three years in the Fifth Division Army Band at Fort Carson, Colorado, he began a thirty-year teaching career. He spent five years in Aurora, Colorado and then moved to Colorado Springs in 1975. He taught at Holmes Junior High/Middle School for the next twenty-five years, retiring in 2000.
In 2001 he founded the Pikes Peak Home School Band, giving home school students the opportunity to play in a band of their peers. In 2002 he co-founded the Pikes Peak New Horizons Band, which reached out to the adults in the community.
Bill was married to Carolyn and they have twin daughters: Karen, who lives in Colorado Springs, Colorado and Kendra, who lives in Falcon, Colorado with her husband Jon. A personal lifetime achievement for Bill was being runner-up for the Crystal Apple Award, given to the outstanding educator in Colorado Springs School District 11.
Bill and Carolyn enjoyed traveling over the years. They have been in all 50 states, all the Southern Canadian Provinces, Mexico, Costa Rica and Panama.